Aloha!
It goes without saying that Oahu sets the bar when it comes down to do an adventurous hike.
Imbued with luscious and varied terrain from bamboo clearings, muddy baths, stairs of tree roots, waterfalls and natural pools, you're sure to be captivated under nature's spell of magical delight. She entices you deeper, until reaching the summit of her peaks to see all her glory amidst a caressing breeze and tangy whiffs of allure. But that's not all!
Going from downtown Waikiki to the summit of various ridges, you can be at the doorstep to most hikes in under 20 minutes. While traveling, Lyft or Uber provide an easy gateway at a trivial price for back-to-back adrenaline rush--right in people's backyards.
With so much to do at the touch of your fingertips, Poylwander's sharing our top 2 to get you on the move.
#1 Ka'au Crater Trail
What to know before you go:
Time Required: 4-6 hours
Difficulty: 7/10
Distance: 5-6 miles
How to get to Ka'au Crater Trail
Getting there can be confusing--we got lost! That's why we're here to help point you in the right direction.
Address: 3000 10th Ave, Honolulu, HI 96816
If you follow Google Maps to the point, it'll take you to a residential area. Be mindful of the people as the trail is literally in front of their homes.
Before the trail, you'll reach a Zen building with an open space that we used for parking. Take into account that it's not officially open to the public for Ka'au Crater.
Following the road up and away from the Zen building, you'll come to a fork in the road. If you see it, you went too far. We met a friendly resident that led us to the trail entrance after we continued too far up the road! So where was the actual trail entrance?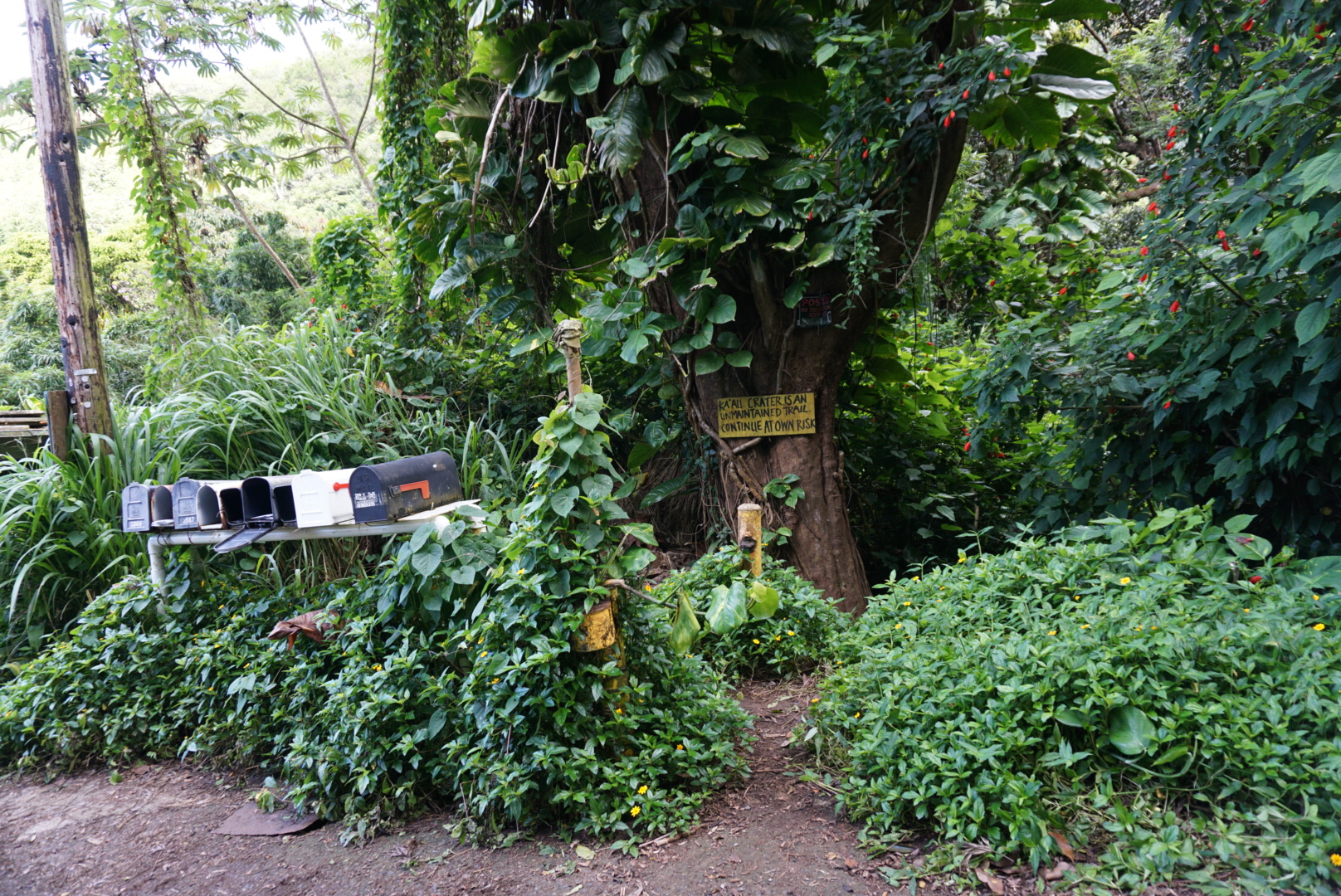 Find the mailboxes on the street.
There will be a sign tagged to a tree that marks the entrance.
Following the road up, it'll be on your left.
As you approach the tree you will see a small clearing at the bottom of the tree line. This is your entrance into another world--just like Alice.
A steep step down through the brush lands you into a valley enclosed by trees and other flora. No longer on the streets of man, you're encased in a riverbed away from all distractions.
From there, the trail is marked with bright colored ties on trees and branches to guide you on the right path. It'll follow the river upstream alongside pipes on your incline up the mountain. From there, it's all up to you.
Why Ka'au crater trail?
Waterfalls!
Not just one, two, or three--you're trekking up the waterfall the whole way till the crater's edge.
The first waterfall greets you with a pool large enough for a swim, while the others provide a once in a lifetime experience as you wrestle the climb and rush of water.
The end of the falls only marks the beginning to another stage.
The Crater
As you peak your head above the treeline and into the openness awaiting you, the expanse of the crater fills your space. It's huuuge. To think that you'll be climbing to the top, and then circling it around.... it presents a good time to take a power break.
This will be the most notable "stop" along the trail before the top. You even get cell service up here, so you're never too far away even though the city fills the backdrop!
And then it gets real.
Presented with ropes and steep inclines, you're forced to go straight up and over.
If it weren't for a lack of rain, you could be sure to have difficulty here. Winds jetting up over the ridge meet you as you teeter totter back and forth, latching your feet onto flimsy terrain as the nimble Earth crust threatens to crumble beneath you.
This is definitely not for the faint of heart.
After climbing the waterfall and mountainside you're only now entering the true trial of your inner strength at the summit.
The Summit
You reached the top! And meet winds from both directions... squishing you into a nimble noodle.
Overlooking the crater and the north side of the island gives you an immaculate view like no other. You can see everything! (Even the whole path back down...)
If you're looking for a picnic area or great reset spot, there's ample space near the constructed towers on top of the ridge.
The rest of the trail is downhill from here and will take you back toward the entrance. Be mindful of your step and ensure the ropes are secured tight before traversing down the steep mountainside! The further you go down, the less ropes there are.
On one part near the tip top, it's straight sliding down for 20ft with no more than a foot of room to either side. There's no room for error.
Ka'au Crater Trail Conclusion
Tough hike that becomes even more dangerous depending on the weather. Come early and during dry days to enjoy fully. Expect over 4 hours; less for the zealous challengers. Polywander highly recommends.
#2 Olomana Ridge Trailhead
What to know before you go:
Time Required: 2-4 hours
Difficulty: 6/10
Distance: 4.5 miles roundtrip
How to get to olomana ridge Trail
Address: 915 Maunawili Road, Kailua, HI, 96734
For all destinations, we relied on Google Maps to direct us. Although extremely accurate for some hikes, the parking description was no less vague.
What you're looking for is "Parking Olomana Hiking Trail". It's exactly where you want to be.
We parked on the street a block away from the main road due to no parking signs along Loop road, which is closer to the trail start. Don't park on Loop road or get towed.
Be mindful of where you park to avoid a ticket! We saw several cars with tickets, so they do enforce it frequently.
After we parked on Maunawili Road, we turned toward Kalaniana'Ole Hwy which was the same direction we entered. Then busted a right before the highway to go down Loop road. This road will take you to a sentry for the Golf Course. We explained we were there for a hike, exchanged smiles, and carried on about our business. They are used to hikers, so don't be alarmed.
Further up the road on the left, there will be an entrance into the dense brush with a sign marking the beginning of the trail head. Enter at your own risk!
Why Olomana Ridge Trail?
We randomly stumbled upon the Olomana Ridge trail. We were looking for something challenging, but didn't know just what was waiting for us.
Olomana ridge trail has a diverse landscape packed into a shorter distance, ramping up the difficulty without unnecessary time delay.
The narrow pathways keep you at edge, and there's plenty of climbing scattered throughout.
This consistency to live near death sounded so enticing that we rounded up a group of friends and hit the road!
Diverse Landscape
Immediately upon entering the trail, you are engulfed by a plethora of fauna 360 degrees around, boasting exuberant colors and brilliant patterns. The birds happily chirp presenting the natural soundtrack of Mother Earth as you begin your hike.
Balancing along the enormous tree roots and slippery terrain, you climb and crawl through a natural obstacle course, using resources such as ropes fellow hikers have crafted along the path for our safety. After emerging through a dense jungle environment, you are greeted with a terrific view and can observe the 3 peaks that await you.
Physical Challenge
As stated above, this hike definitely isn't a walk in the park and will test you physically and mentally.
Balancing along the ridge and maintaining your composure throughout this expedition is essential, as one small misstep or gust of wind could easily send you on your way toward a premature death.
Although this could be interpreted as rather depressing, it presents the ultimate mindfulness training. Nothing exists in the present moment other than you and your very next step, offering a truly free and liberating experience.
Of course, exercise safety precautions and go with a buddy. Take your time, but don't miander away from the confrontation of challenge, for it is what truly produces growth.
The 1st Peak
After emerging from the brush, the path guides you up a steep and narrow path that is sure to leave your lungs and legs burning.
You reach a feeling of accomplishment as you push yourself and reach the top, only to find out... there's still 2 more peaks to go! Are you ready? You've made it this far! A lot of people turn around at this point and call it quits. Not you, though!
Before descending the mountainside, inspect the area where the rope is fastened, as it could have deteriorated over time. Then grab a hold and rappel yourself downward!
The best part about being on the bottom is that the only way to go is up! Take a breather and admire the spectacular views before conquering the rest of the hike.
Once up top, you can witness how far you've already came, and look at the 3rd peak with a sense of fierce determination!
The way down on the 2nd peak is especially steep, so again, exercise safety at all times. Put one foot in front on the other, and soon enough..
Look around you!
The views are unbelievable. Your perseverance is rewarded with some of the most profound views on the entire island.
Take a minute to soak in the beauty of this planet we call home!
After enjoying some rest, it's time to reverse your direction and retrace your steps. Going down could be said to be harder than coming up. You're tired from climbing to the first peak with all the stairs, twisted encounters with the ropes by the second, and now it's even more crucial to get the right foot placement with tired feet.
The good news is that you'll get to experience the hike once more. As the mountains go up and down, there's a healthy mix between the two compared to other hikes. It's not all just up to the top and straight back down again.
Olomano Ridge Trail Conclusion
A challenge of climbing and narrow pathways will excite the adventurous spirit within you, but exercise caution. Need less material, and more mental willpower than anything. Recommended for team building or developing your independence toward your fears. Don't recommend for families of little ones.
Tips for hiking in Oahu, Hawaii
Carry ample water. You're sure to sweat bullets-not only from physical exertion, but also the dense humidity that robs your body of fluids and electrolytes. 5 liters of water did the trick for us!
Load up on dense snacks. You'll need the energy to literally climb waterfalls and ascend the mountainside. Be sure not to go on an empty stomach! We recommend fresh/dried fruits, nuts/seeds, and protein/meal replacement bars.
Get muddy. Avoid the hassle of watching every step with precision to avoid the faintest speck of dirt. You will get muddy--even if you're clean above the waist and rinse in the rivers, your bottom half will be covered. Get ready to slip and slide by wearing clothing you can afford to get dirty.
Shoes! The right shoes can make a big difference. From the water, to mud, to rock climbing, you'll need a diversified fit. We did it with sneakers, but if you've got boots, use them here.
Bring a hat! There is no shade above the crater and sun exposure can be draining after the distance you must cover.
If you've enjoyed our experiences, we'd love to hear about yours! Let us know in the comments below. :D